The many benefits of office plants
Move along lean offices... Say hello to green offices!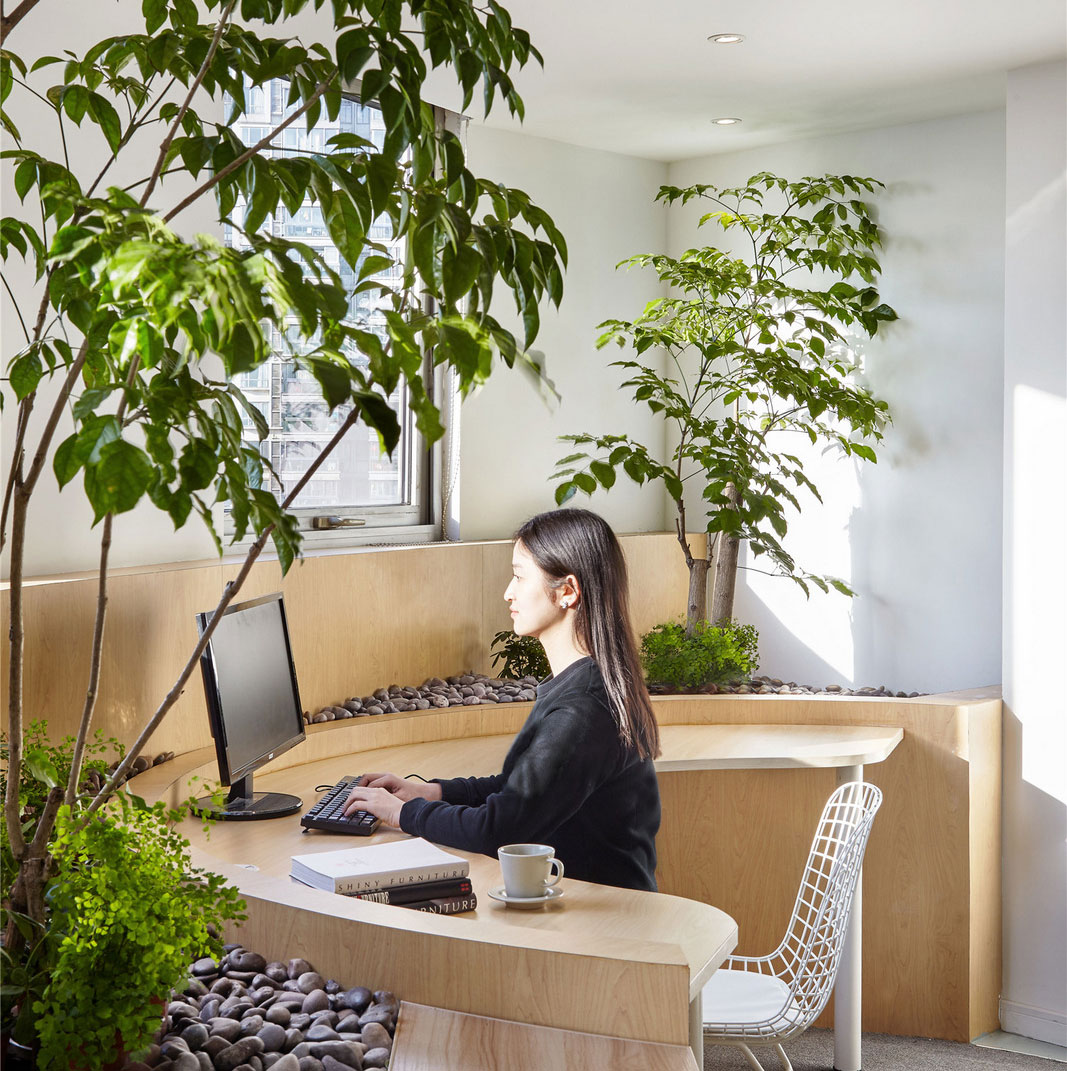 Unnamed Company Offices, Shanghai
We've all heard of the many environmental, health and aesthetic-related benefits to having indoor plants. But when it comes to crunching the numbers, how does fit out foliage relay back to your business' bottom line? Let us enlighten you.
1. Office plants boost productivity…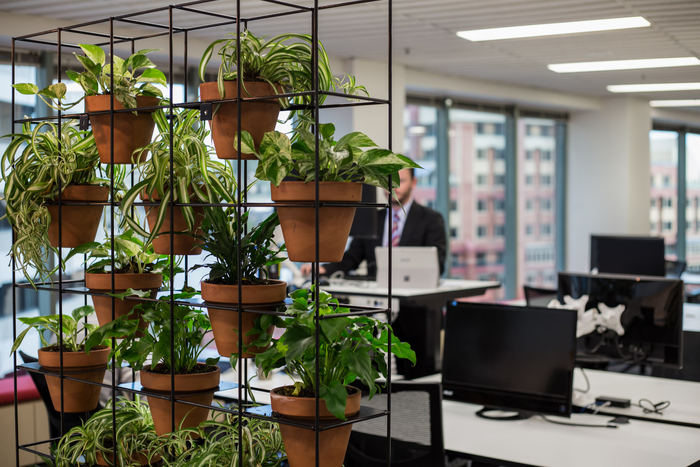 Artazan Property Group Offices, Sydney
You'll be pleased learn it pays great dividends to invest in some office shrubbery. And the significant changes you'll notice in the quality and output of your employees' work are simply too hard to pass up.
A world-first study which looked into the "long-term impacts of plants in an office environment" found that office workers in greener spaces were more productive and cognitively involved than their 'lean' counterparts. CEOs saw a 15% increase in their productivity after their indoor office landscaping efforts. And not only were tasks completed faster, but they were also less prone to errors.
Looking for more ways to be productive? You can start by improving these five aspects of your office fit out.
2. ...And foster a creative environment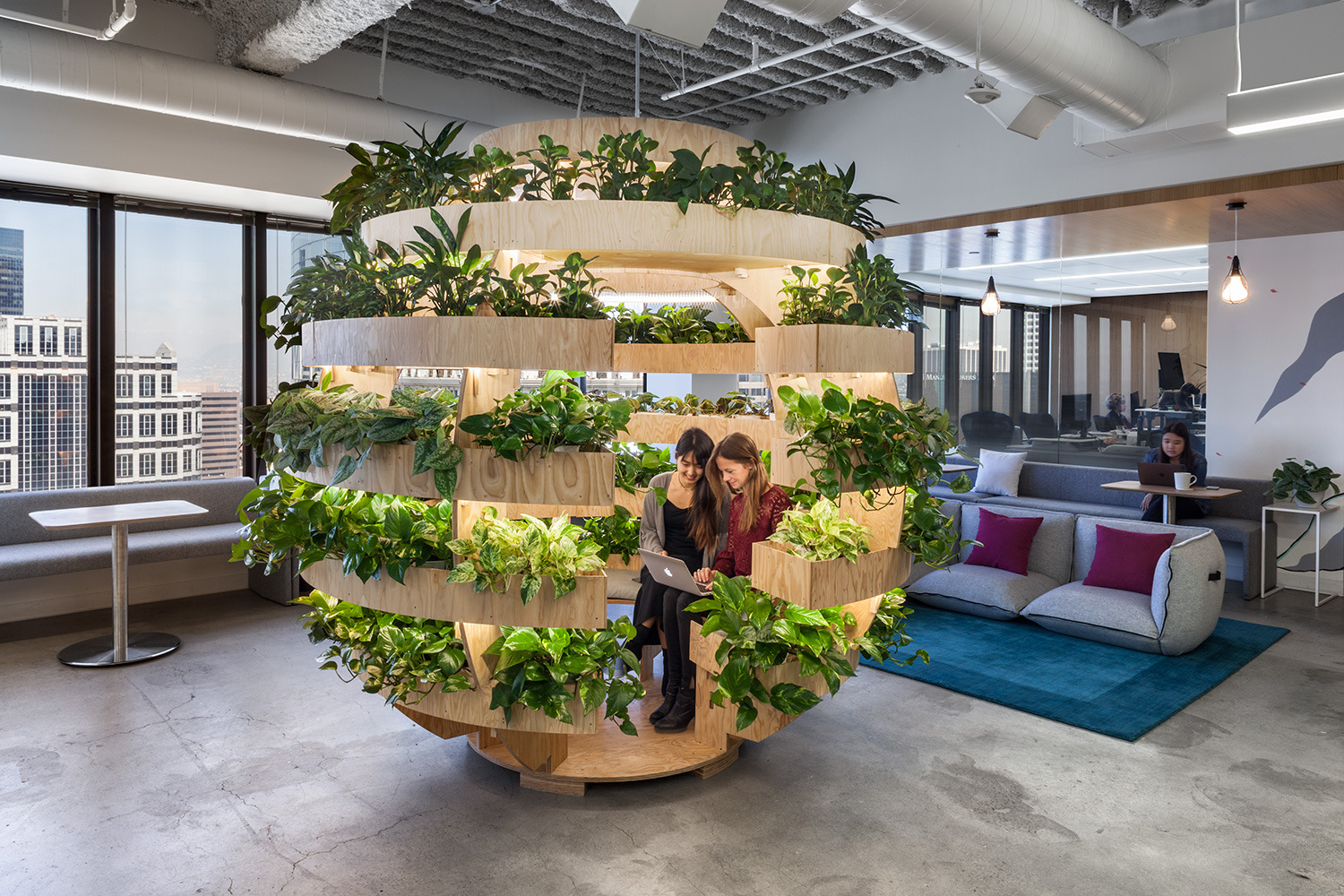 An enriched green working environment is a breeding ground for creativity, encouraging a meeting of minds where original ideas come to fruition. More specifically, it's the ornamental plants that seem to get those creative juices flowing.
It goes without saying that an aesthetically pleasing environment creates an atmosphere where creative thinking thrives. For your upcoming office fit out, try think of some stylish and creative ways to showcase your plant life and celebrate the personality and culture of your company.
3. Office plants help beat stress…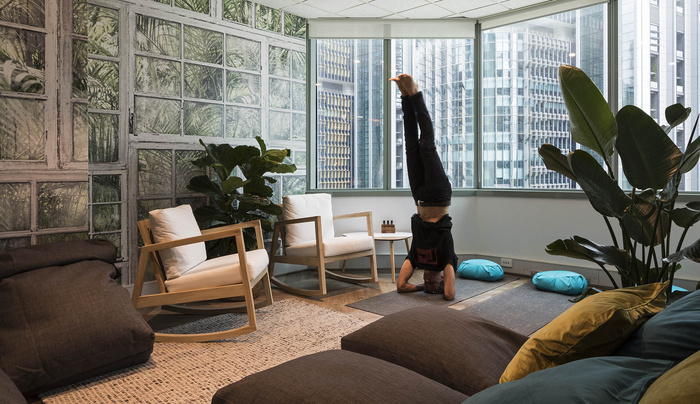 Keep calm and spruce up your workstation, because a green office is a stress-free office. It's also exponentially more relaxing and enjoyable for workers, helping to restore the balance of nature. Businesses owners and employees will enjoy a long list of therapeutic benefits – particularly the reduction of the stress hormone, cortisol.
And with stress levels on the rise (and all that overtime), it's no wonder the next generation of "corporates" are choosing to combat conventional office culture with nature's helping hand.
4. ...They also work to improve your air quality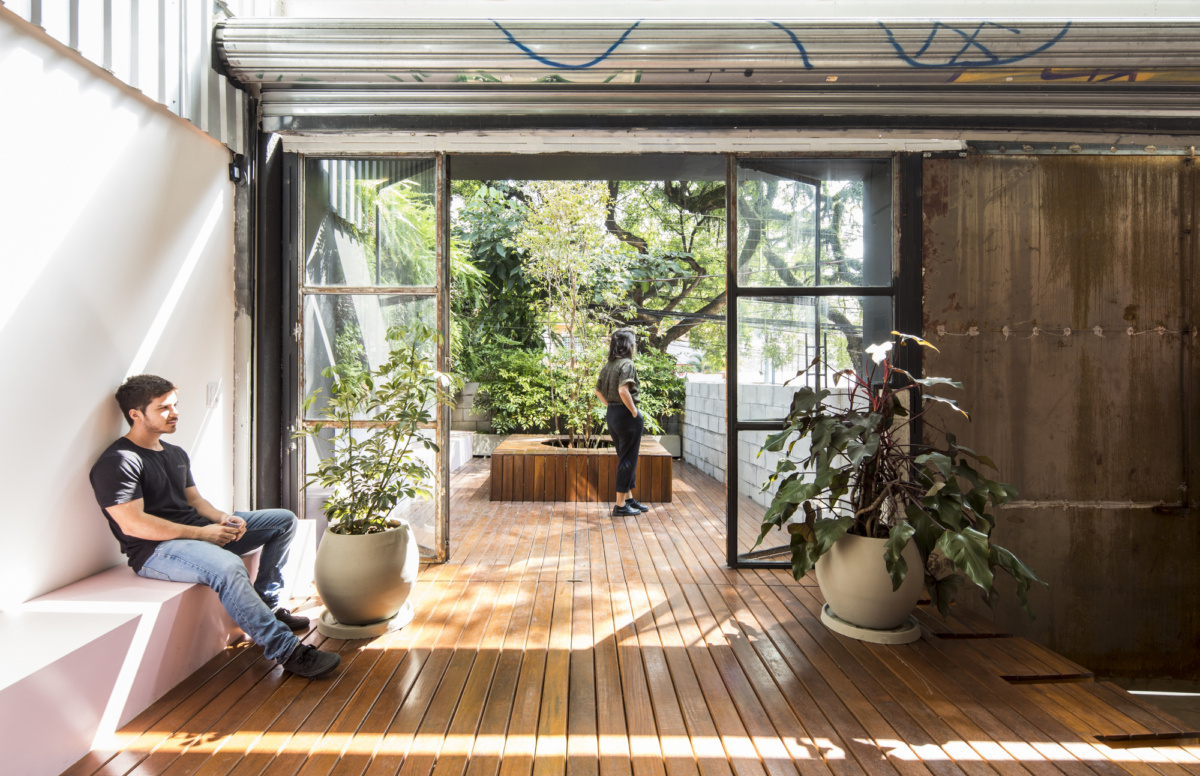 The average Aussie employee will work around 40 hours per week. And who wants to spend all that time cooped up in a cubicle with sick building syndrome?
Business owners can breathe a little easier knowing their greener office is also helping to clear the air of pathogens. Plants have also shown to abate volatile organic compounds (VOCs) and other nasty pollutants, as well as promote a healthy flow of oxygen in the workspace. Not only that, but office plants represent a sustainable solution to maintaining the air. They also cut the cost of your office fit out by minimising the need for conventional air filters.
5. Green offices prevent employee illnesses…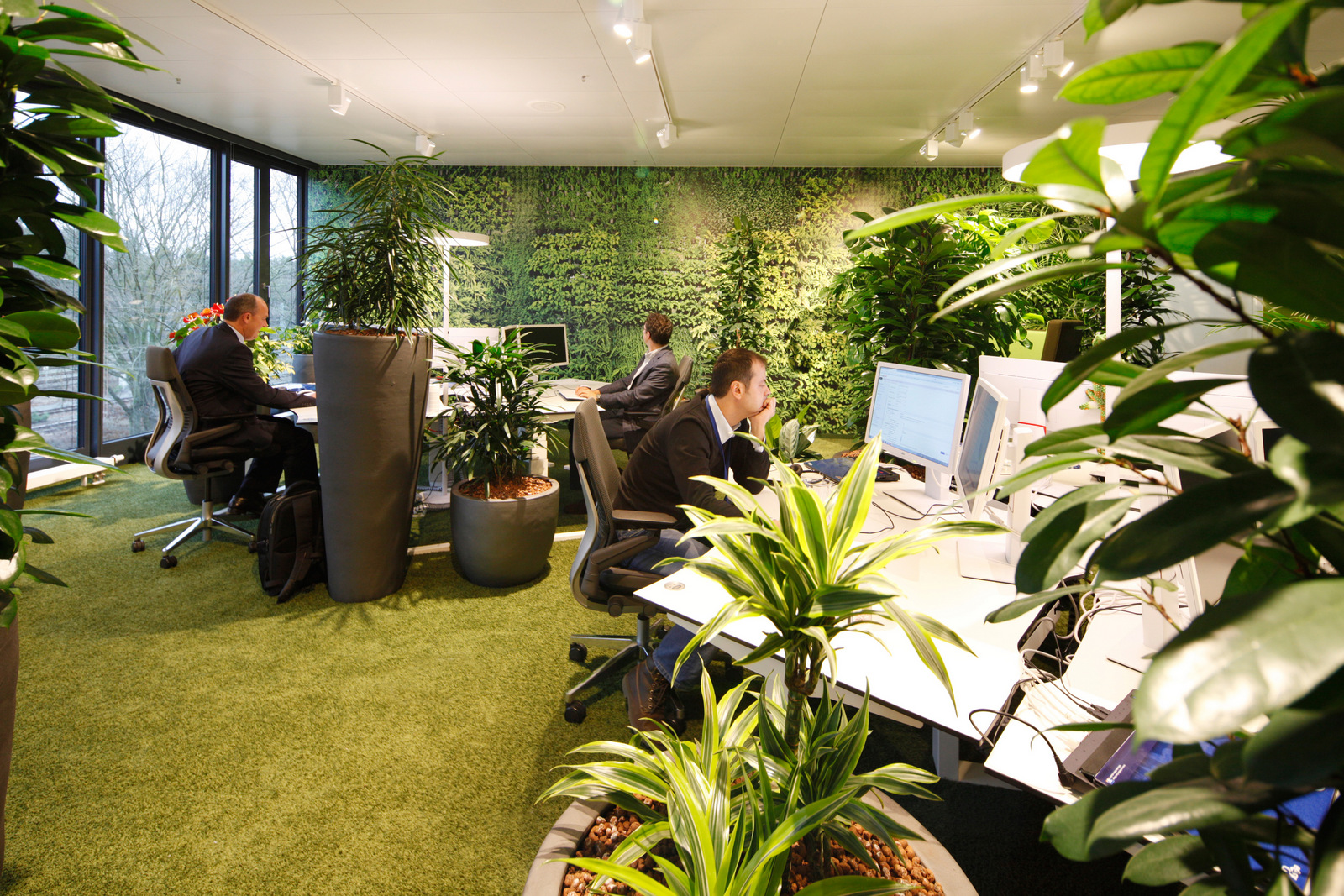 easyCredit Headquarters, Nuremberg
Naturally, the desirable air quality makes for a healthier office and, by extension, yields healthier employees. The improved balance of bacteria within these greener environments boasts less sick days and more "on the ball" days.
6. ...Hence their lower absence rates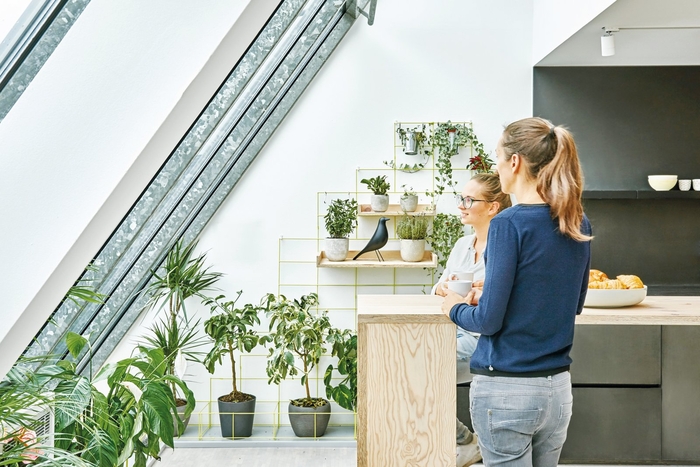 WFP Innovation Accelerator Offices, Munich
What goes hand-in-hand with the more obvious reduction in sick leave? We already know plants in the workplace offer several physiological benefits, but it's their psychological benefits that are having the biggest influence over company turnovers. Remember, if you're employees are expected to fulfil their 40-hour-a-week role, creating an environment that's more comfortable and enjoyable isn't a bad idea.
7. Plants help to retain employees…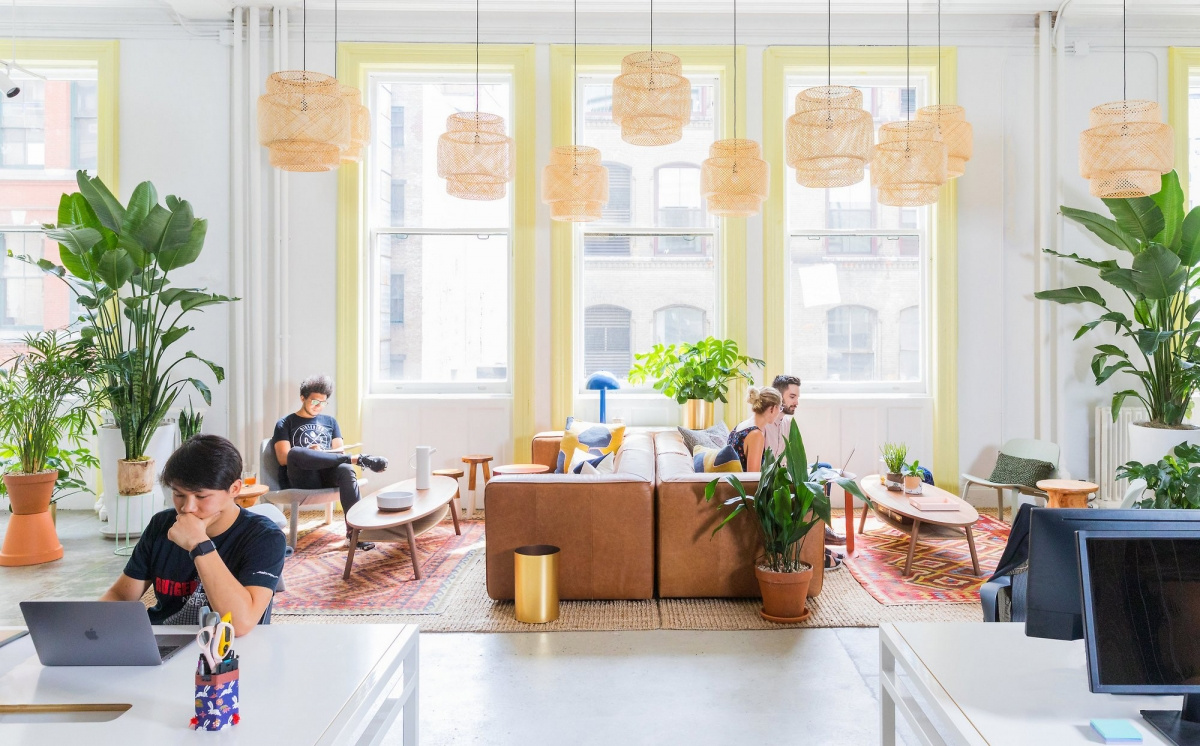 The people-plant relationship in an office environment extends further than you may realise. Thus far, we've established all of the above benefits to office plants. And it seems pretty clear there are many perks to remaining employed by a company that looks after their staff. So pop some plants on those sad looking desks, and start planning your office for the new workforce.
8. ...And make your workspace look more attractive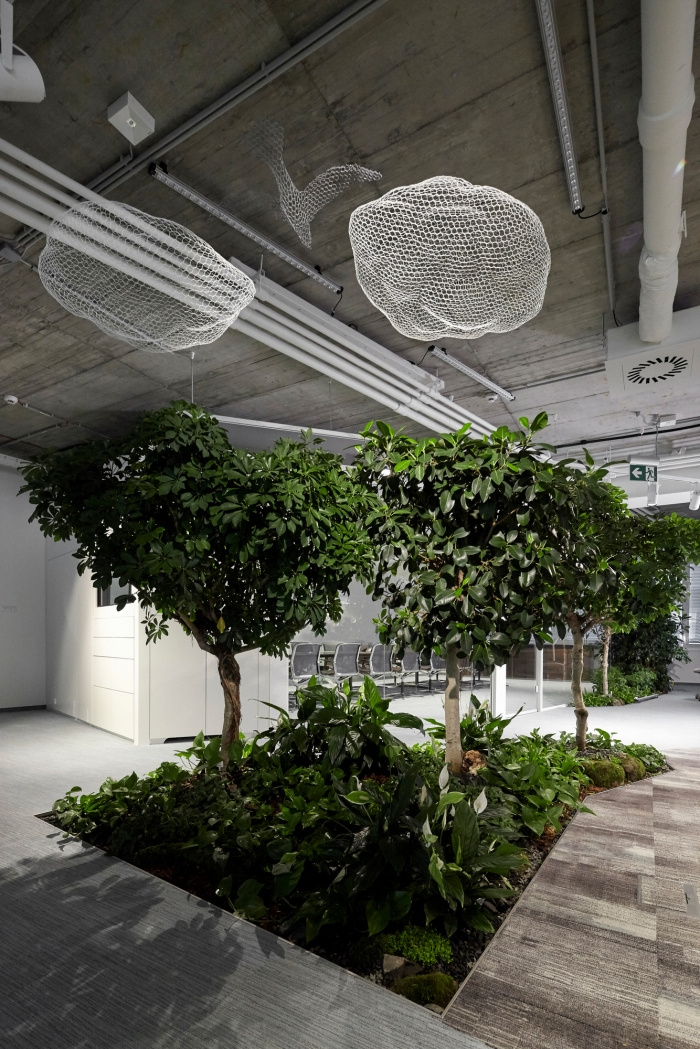 Aesthetics are everything when it comes to snapping up the best clients and job applicants. Which is why breathing new life into an otherwise dull workspace is the no-brainer solution to attracting the cream of the crop.
Think of some out-of-the-box ideas for your next refurb, like indoor gardens/greenhouses, vertical green walls and other striking displays for the ultimate "wow" factor.
9. Office plants can be used to reduce noise…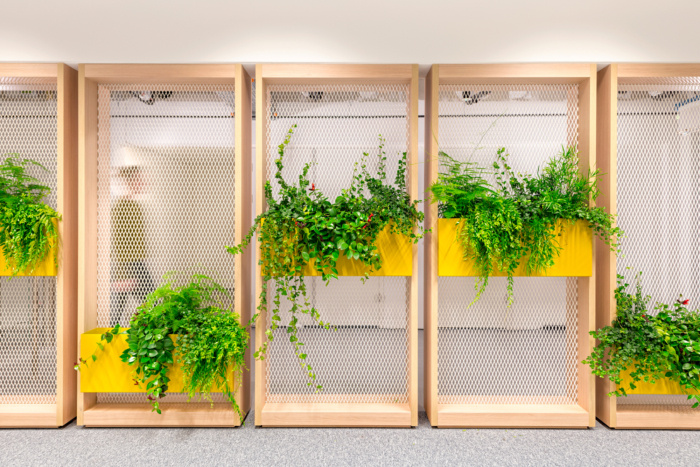 Uber EMEA Headquarters, Amsterdam
You can improve the acoustics of any office space by dressing up the walls in lush leaves. Due to their dynamic surface area, plants are highly effective at absorbing, deflecting and refracting sound.
Include vertical green walls or custom built-in pots and shelving in your fit out designs to offer a distraction-free space for your employees to work. While
conventional air filtration systems can be loud and disruptive, green walls clear the air without the noise and nasty energy bills.
10. ...Not to mention boost your corporate image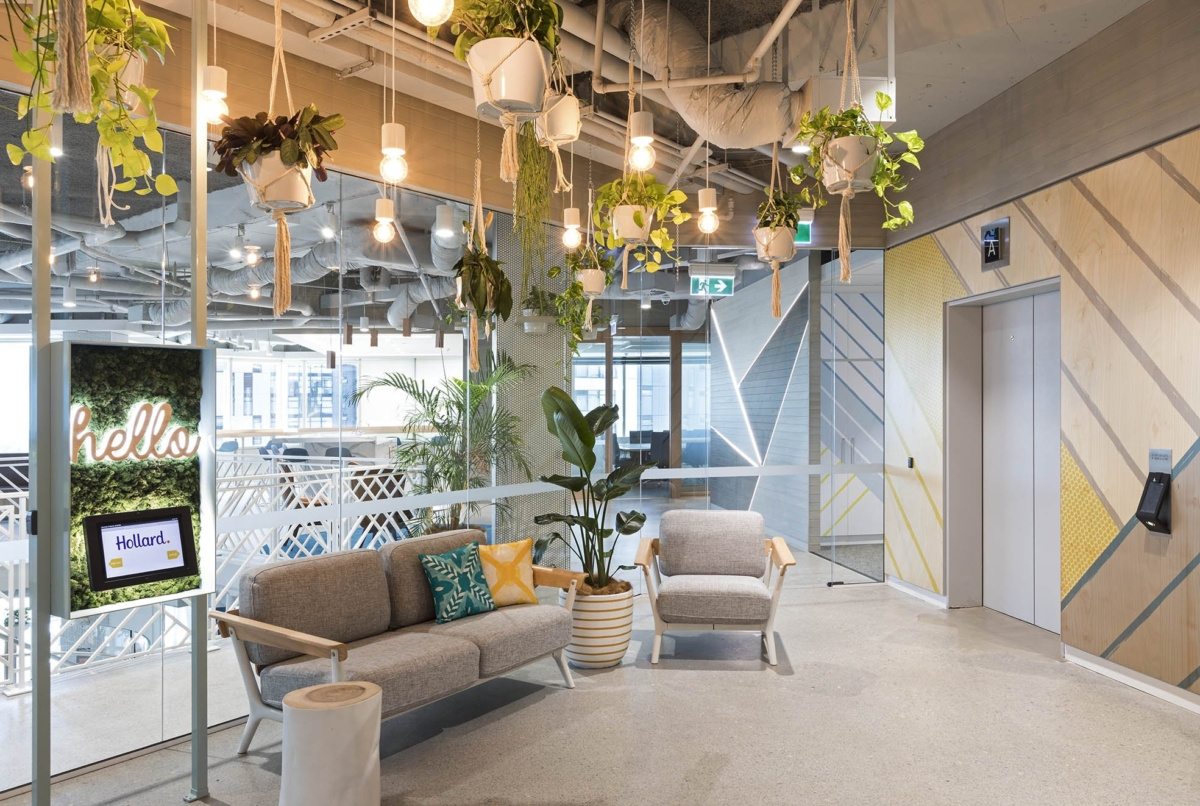 Hollard Insurance Group Offices, Sydney
In case you hadn't clocked on already, green businesses are more profitable businesses. And companies that care about the planet are revelling in the financial and brand-boosting perks of office plants.
With the demand for sustainable offices at all all-time high, we're seeing more and more fit out design features that incorporate greenery. Reception areas are making their grand impressions with prestigious plantscapes, and meeting rooms/breakout spaces are being revitalised with hanging plants and an air of tranquility.
11. Last, but definitely not least… plants help minimise your carbon footprint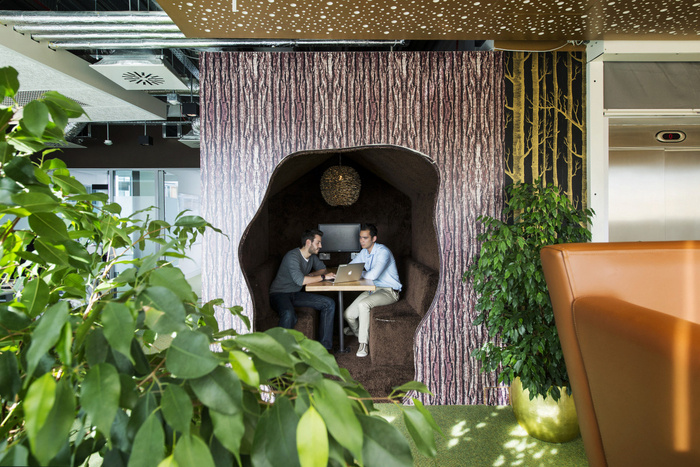 Need we say more? Conscious corporations are devising the most "creatively green" design schemes to offset their carbon footprint.
Add a little fiddle-fig to your office fit out
Your employees spend the bulk of their waking days in the office – which is why it's so important to cultivate a positive, healthy working environment. If you'd like to spruce up your office, call the refurbishment experts on 1300 303 831 or email info@fastfitouts.com.au for a free foliage-friendly design and budget estimate.
Lets GEt The Ball Rollng!
Enquire Now
Share this Post
Related Articles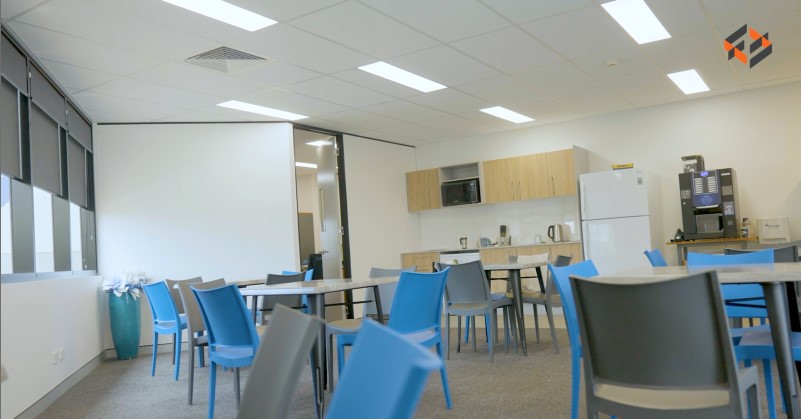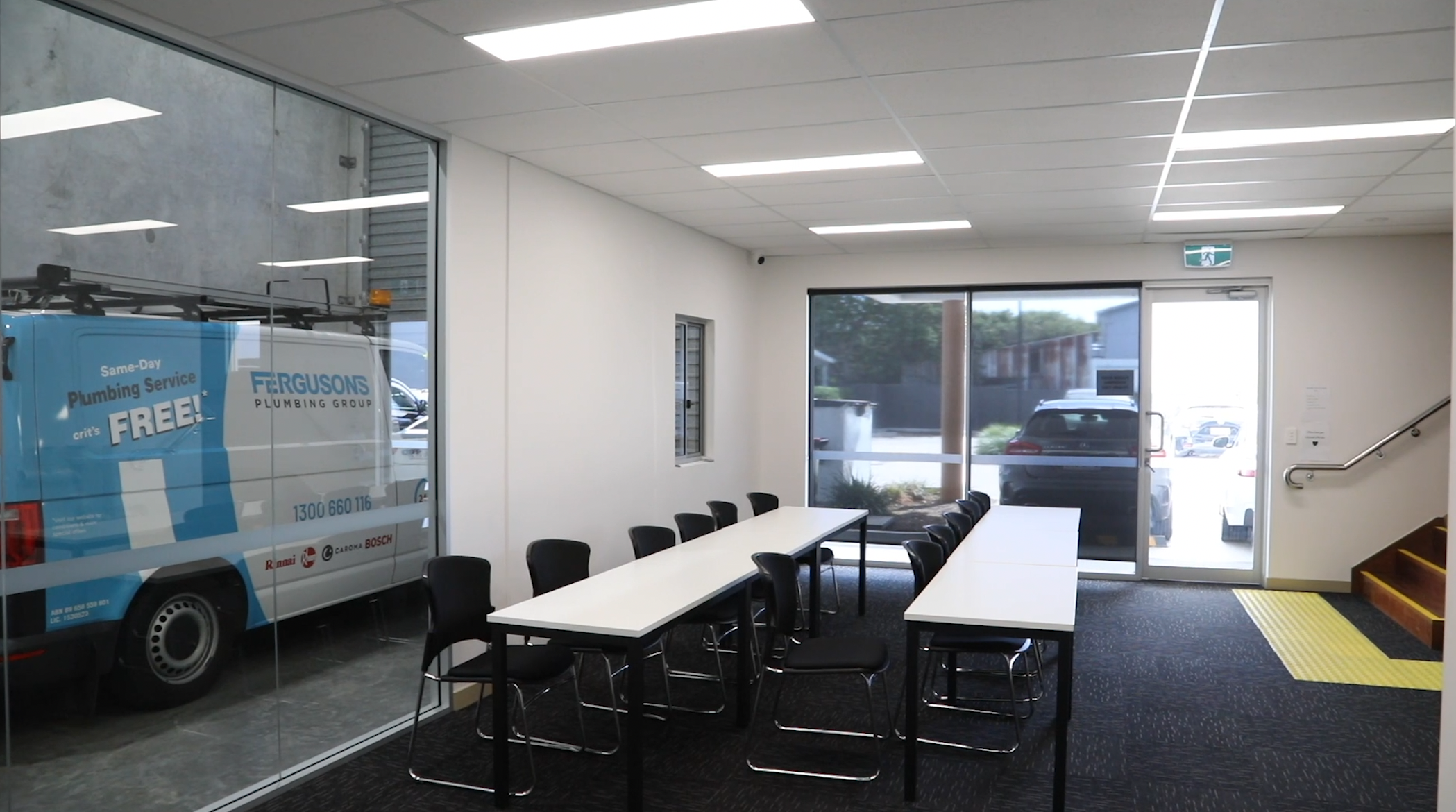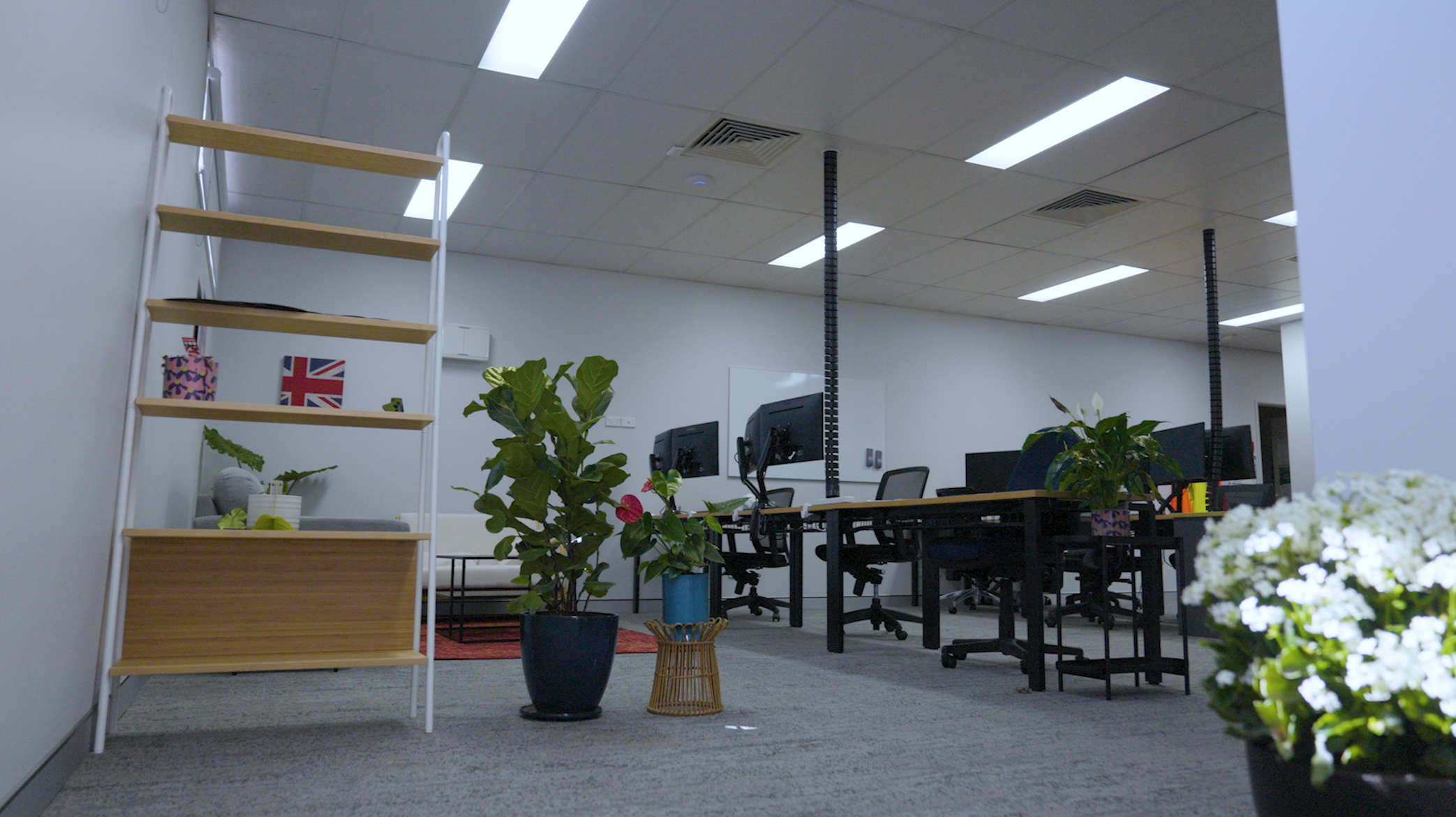 BLOG ARCHIVES