Your Essential Guide to Customising Your Office Reception
Duke Street Emporium, London
Your office design reflects the very vision and personality of your company - And the reception or waiting area is absolutely no exception to this. Every client, guest and potential employee who walks through your office doors will base their first impression on the layout, texture and flow of your reception area.
"Your creativity should authentically reflect the business."
If you need to distribute your office fit out budget to upgrade one aspect of your commercial workspace, we recommend prioritising your reception area. Your introduction will make all the difference - And so it goes, your office reception counter should be consciously and impressively designed.
A dynamic, meticulously structured fit out is the key to your company's heart and reputation. A front-of-house which upholds the integrity of your business with immaculate detail will bring that "wow" factor to the counter. Have the experts at Fast Fitouts craft you a beautiful, custom-built reception counter that will transform your office reception into a most-inviting dreamscape of opportunity.
Counter Action
Your office joinery should be carefully considered in the process of optimising your space. Consider how many people you need to accommodate, and what equipment you'll require. Do your computer monitors need to be obscured with a raised counter, or perhaps your visitors will need somewhere to lean on? Now that you've established the practicality of your reception desk, it's time to give thought to the aesthetics.
"Landream" by Mim Designs, Melbourne
Your interior fit out says a lot about an establishment, so it's a good idea to invest in materials to perfectly capture your aesthetic. A prominent, sculptured reception desk, like a marble counter, is a classic yet elegant move in impressing your visitors.
Reclaimed wood is an incredibly versatile way to create a natural, yet contemporary atmosphere. Your creativity should authentically reflect the business - The use of wood is an ideal choice for a creative or environmental association, marble is reflective of luxury and esteem, and concrete is a chic way to bring out your industrial vibe.
Make it Known
Your reception area says a lot about your company's identity, so it's important to raise the bar so as to ensure your clients indulge in the ultimate front-of-house experience. Every detail counts, so be sure to invest some thought into brand-specific artwork, and other visible company memorabilia. Your creativity will produce some amazing results in encouraging your visitors to share their experience with you.
Notting Hill Studio, London


"YOUR RECEPTION AREA SAYS A LOT ABOUT YOUR COMPANY'S IDENTITY, SO IT'S IMPORTANT TO RAISE THE BAR SO AS TO ENSURE YOUR CLIENTS INDULGE IN THE ULTIMATE FRONT-OF-HOUSE EXPERIENCE."
Enlighten Me
Shed some light on the culture of your business with an intelligently designed lighting scheme. Highlight your reception area with subtle or contrasting lighting that escapes through the cracks or lines of your desk. Or reduce your energy consumption with decorative LED fixtures that will be your guiding light in terms of style. For more inspiration on how you can enlighten your establishment, read our blog on LED trends.
Sierra Club, San Francisco


Upcycle Your Style
Reclaimed wood, upcycled materials, and and other convertible embellishments can be used as a unique, cost-effective way to craft a memorable experience for your clients. It's also a great opportunity to incorporate personality into your establishment. Let your customisations stand out in the most imaginative way possible - Your first impression is a one-off.


Shape it Up
The overall appeal of your design will be determined by the shape - Let Adam and the team at Fast Fitouts shape up your office design with a custom-built reception counter for a creative approach towards welcoming your visitors. Geometric shapes can be employed to craft a contemporary, outside-of-the-box approach to your office. Minimalist L-shaped counters keep the room light and airy, while a curved desk can be a functional way to achieve elegance and sophistication. Ensure the shape of your desk matches all other furniture in your lobby.
It's important to assess the area and think about the architectural features you should accommodate in your office fit out. Consider split level floors or ceilings works, columns or beams, and walls in the early design stages.


"The reception is where every office day begins. Make sure this key area appears effortlessly branded, welcomes visitors and sets the right expectations for their experience, and inspires your employees to be proud of their workplace."


Storage, Storage & More Storage
Not only should your desk look good, but it should also be highly functional and accommodate your receptionists' needs. Customised shelving, cabinets and cupboards will allow for an immaculate and organised reception area.
Abbaye de Fontevraud Hotel, Anjou


Fast Fitouts recommend considering these specific upgrades:
• Install one or two high-back lounge chairs upholstered in acoustic felt to dampen the chatter and reduce loud phone calls if your reception area leads directly into a busy office environment.
• Provide corner tables that double as computer tables so that guests have the option to use their laptops while waiting.
• Invest in lounge seating and tables that have integrated power/USB modules that act as a charging station for guests instead of leaving them to search for available outlets under chairs or along walls.
• Ditch the corner television that competes with your overhead music and create two or three individual smaller "quiet viewing areas" with screens and headphones for people to watch company videos while they wait.
• Place plants and water features in corners or between seating areas for a calming, healthy centrepiece that also offers semi-privacy.
• Lighting should feel warm, natural and adjust throughout the day with smart tech or timers if natural lighting isn't an option.
• On tables, your reading material can be upgraded to include branded in-house magazines, company portfolios or books that inspire your company values.
The reception is where every office day begins. Make sure this key area appears effortlessly branded, welcomes visitors and sets the right expectations for their experience, and inspires your employees to be proud of their workplace.
If you need any help with an office fit out or refurbishment, get in touch with Adam and the team at Fast Fitouts today! To find out more about what Fast Fitouts can do for your office, call 1300 303 831 or email info@fastfitouts.com.au for a free concept design and pricing service.
Lets GEt The Ball Rollng!
Enquire Now
Share this Post
Related Articles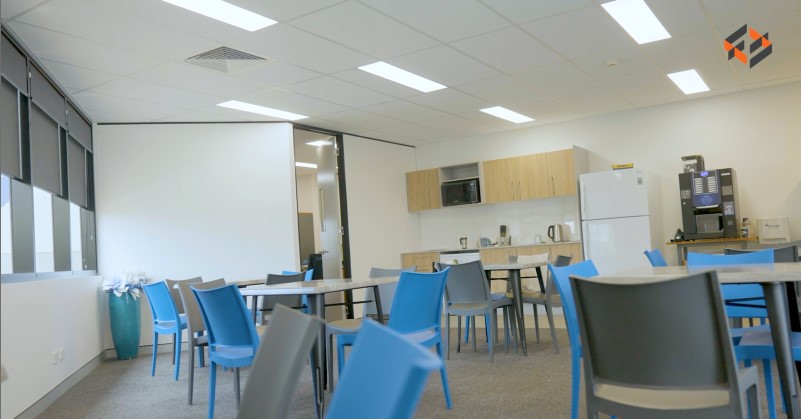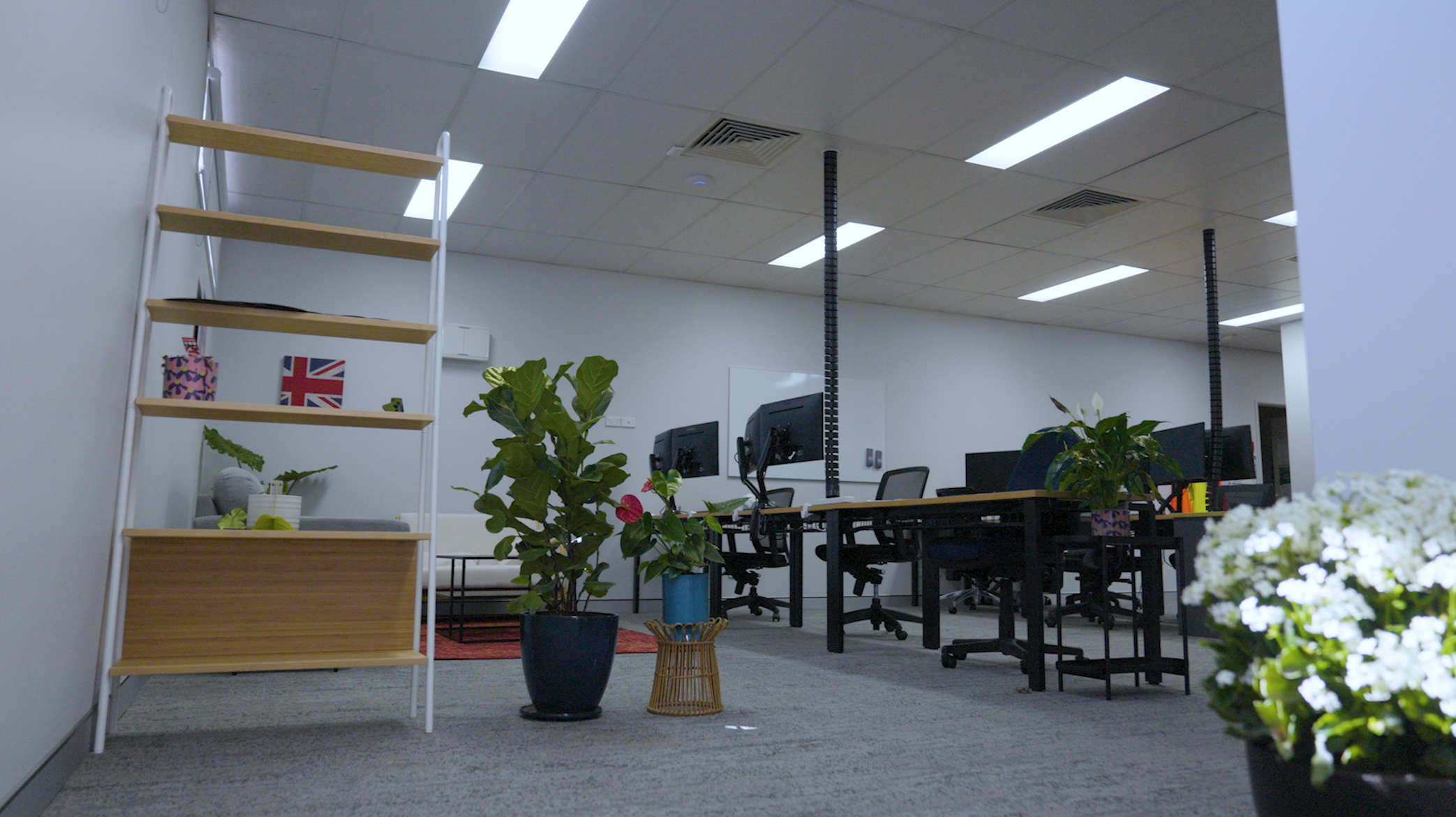 BLOG ARCHIVES