Office Fitouts in Brisbane: Ideas and Inspiration
Over the years Fast Fitouts has had the pleasure of bringing countless Brisbane offices to life through client collaboration, innovative ideas, and efficient designs.
While all office fitouts and renovations are delivered with care by our team, not all are alike. The budget, styling, design, space, and vision of each of these projects is unique and fulfils a different interpretation of the ideal working environment.
To offer some insight into the various outcomes that can be achieved with an office fit out or renovation, here are some of the most notable and diverse workplaces we've helped put together.

Set inside a Northgate warehouse, this office remodel was vital to the expansion of electronics experts Machine Monitor.
After outgrowing their previous tenancy, they approached Fast Fitouts with an urgent need for a large, versatile space that could accommodate new employees. These recruits were due to arrive shortly, so time constraints were tight. Fortunately, we're not called Fast Fitouts for nothing.

Our team quickly formulated and assembled a classic working environment complete with well lit, insulated, and air conditioned offices, a new boardroom, and a new breakroom. With subtle tones throughout and a modern yet modest aesthetic, it's the quintessential office space, albeit one that benefits from its industrial location.
Much of the room in the warehouse itself was retained, making for ample storage downstairs and an uncluttered and functional environment upstairs.
This office remodel for Brisbane's ATC Williams was accepted at the eleventh hour after the contractors they had previously engaged withdrew without warning. The timeline may have been accelerated, but the results are anything but 'rushed'.

By demolishing unwanted walls we created an airy, open layout that encourages collaboration between team members. It's an expansive environment, and one that can cater to most any business need.
Separate, enclosed offices were also constructed around the central workspace. Boasting salvaged doors and walls composed of both glass and plasterboard, these rooms tread the line between welcoming and private.

Our changes throughout this project culminated in an office that is contemporary, scalable, and exemplary of the open-plan layout that has become so in-demand.

YES Group's new suburban sales office in Camp Hill shows that big budgets and big alterations aren't always necessary to make a big impact. Sometimes small alterations are all that's needed to create a stunning office.


With space at a premium, this real estate agency was refreshed using simple lines and homely tones. Full-height glass walls were fitted to segregate the area into multiple rooms, before a coat of white paint was applied throughout. Completing the understated look are sleek, minimalist furnishings, as well as muted flooring and accents.
These changes were relatively minor, but they made a major difference to the look and functionality of the office. The bright and tidy appearance it now projects belies its tight confines.

When constructing specialised offices, like those for use in the medical industry, a comprehensive understanding of the client's needs is called for. The goal of this from-scratch clinic, brought to life by our team in Brisbane's South last year, was to successfully marry these needs with modern form.

Tailored joinery and fixtures were crucial to serving the client's requirements, as was a clean, functional, and well-lit layout. Fit-for-purpose power outlets, plumbing, and electrical equipment was installed, along with easily accessible kitchen and bathroom amenities.
A touch of flair can be seen in the reception lighting, which complements well the otherwise simple styling exhibited throughout the clinic. With dark carpeting and neutral wall tones, it bears a professional, timeless quality.

It only makes sense that an architectural firm has an office that 'wows' clients, staff, and most anyone else who sees it. This fit out in the heart of the Brisbane CBD does exactly that.

Its hyper-modern design almost has to be seen to be believed. The floating counters, bold colour scheme, and use of textures evoke an aesthetic one might expect of a techno-driven future. What stands out most, however, is the LED lighting that drapes the fixtures, meeting rooms, and central office.
The 'urban nightscape' style on display in this fit out reflects a forward-thinking approach to office design; one which seamlessly integrates needed facilities into a comprehensive visual concept.
In contrast to the architectural office above, the BA Creative office in Kangaroo Point is decidedly more 'down to earth' (though no less impressive).

Employing bohemian-chic sensibilities, it boasts natural, earthy tones that give way to bright orange accents - a look that is reflective of their corporate image. Floor to ceiling windows flood the office in natural light and soften the industrial aspects of the design, while track lighting lends versatility to the space.
Simple wooden furnishings complement the understated charm, allowing striking individual features, like the orange meeting room door, to pop all the more.
Businesses come in all shapes and sizes, and so do their offices. The team at Fast Fitouts understands this, and can create an office environment that both staff and clients love, no matter the business.
Regardless of the budget, style, room, or need, our dedicated office fit out and renovation experts can bring your workplace to life. For more information, peruse our range of office services online, or reach out today for a free quote.
Lets GEt The Ball Rollng!
Enquire Now
Share this Post
Related Articles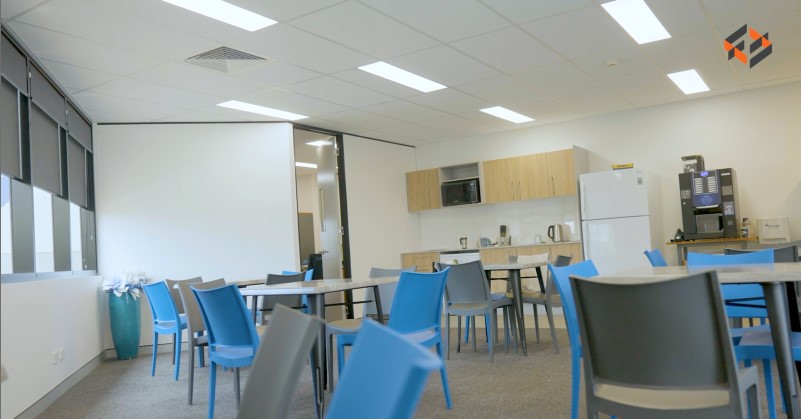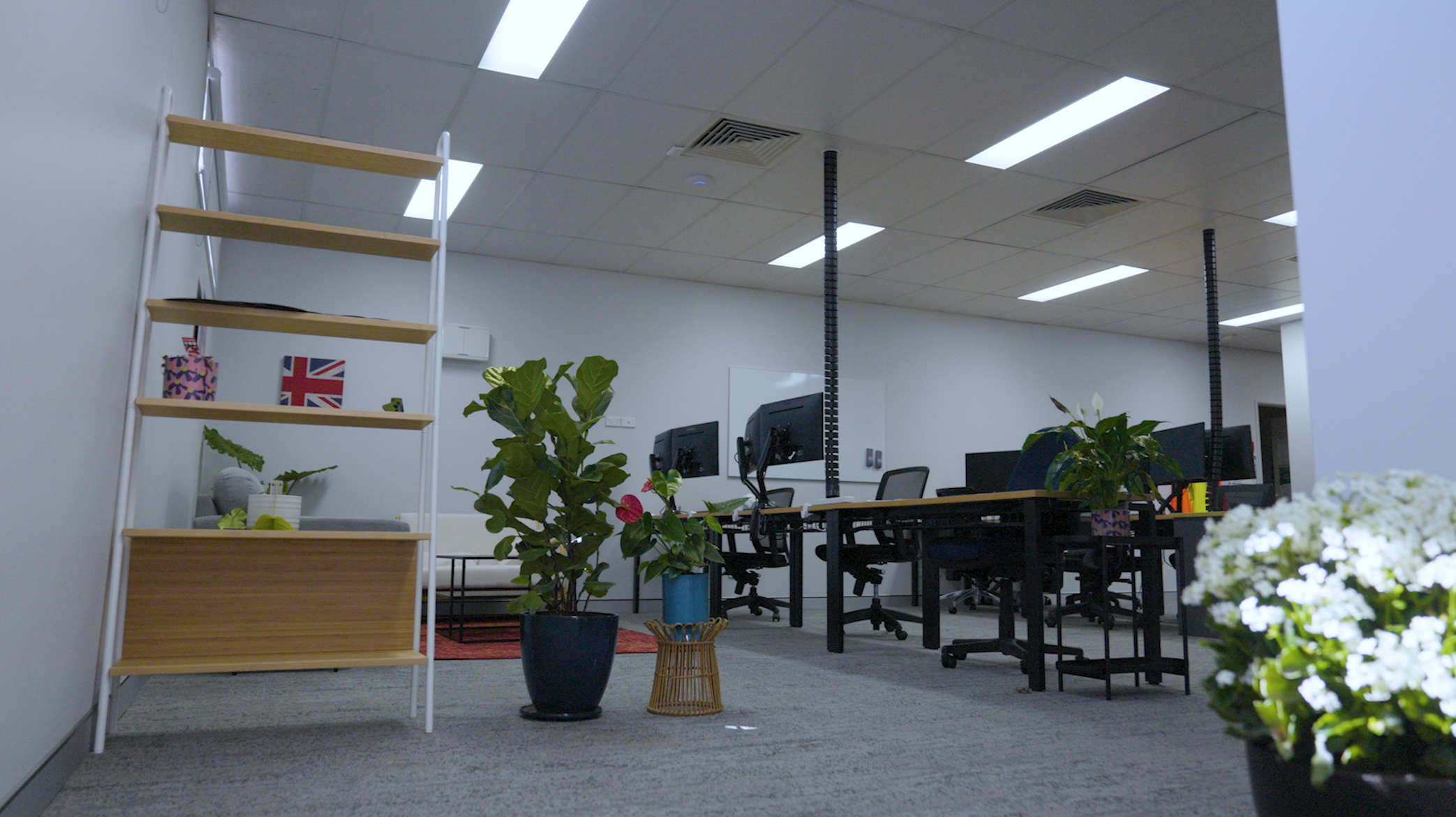 BLOG ARCHIVES